Regular price
Sale price
$75.00 USD
Unit price
per
Sale
Sold out
These pride-affirming toys are designed with community support in mind. 20% of each purchase goes back to the queer community in the form of donations to the Lavender Rights Project. Plus, you are supporting a 100% queer-owned shop!
The exact look of this fade may vary between pours, with some colors being more prominent than others. Particularly, the white center section of the trans pride fade may disappear somewhat into the pink, and the bottom purple section of the rainbow fade may disappear into the blue a bit.
The Familiar Medium's dimensions are:
Total length: 5.9"
Useable length: 5.3"

Front-to-back diameters:
At tip (first bump): 0.6"
At second bump: 1.0"
At third bump: 1.2"
At fourth bump: 1.5"
At fifth bump: 1.7"
At sixth bump: 2.0"
Between sixth bump and base: 1.6"

Side-to-side diameters:
At one third distance from tip: 1.5"
At widest (three quarters from tip): 2.0"
Just above base: 1.5"
Diameter of base: 2.7"
The Familiar's base is designed to be harness compatible and anal safe. Soft and Extra Soft toys have bases poured in Firm to ensure this. Please be aware that there will be a small, visible line where the two pours meet at the top of the base, for Soft and Extra Soft toys. For more information about firmness, please see our firmness page.
As with all of our toys, the Familiar is made of 100% body-safe platinum cure silicone. Please see the FAQ for details on how to keep your toy good as new.
Colors are mixed by hand for each order and will vary in hue and intensity from the images you see here. Additionally, pour patterns vary significantly with each pour. We take pains to keep them reasonably consistent, but please expect your made to order toy to look different from the picture. This is not considered a flaw, but is a feature of these handcrafted items.
Share
View full details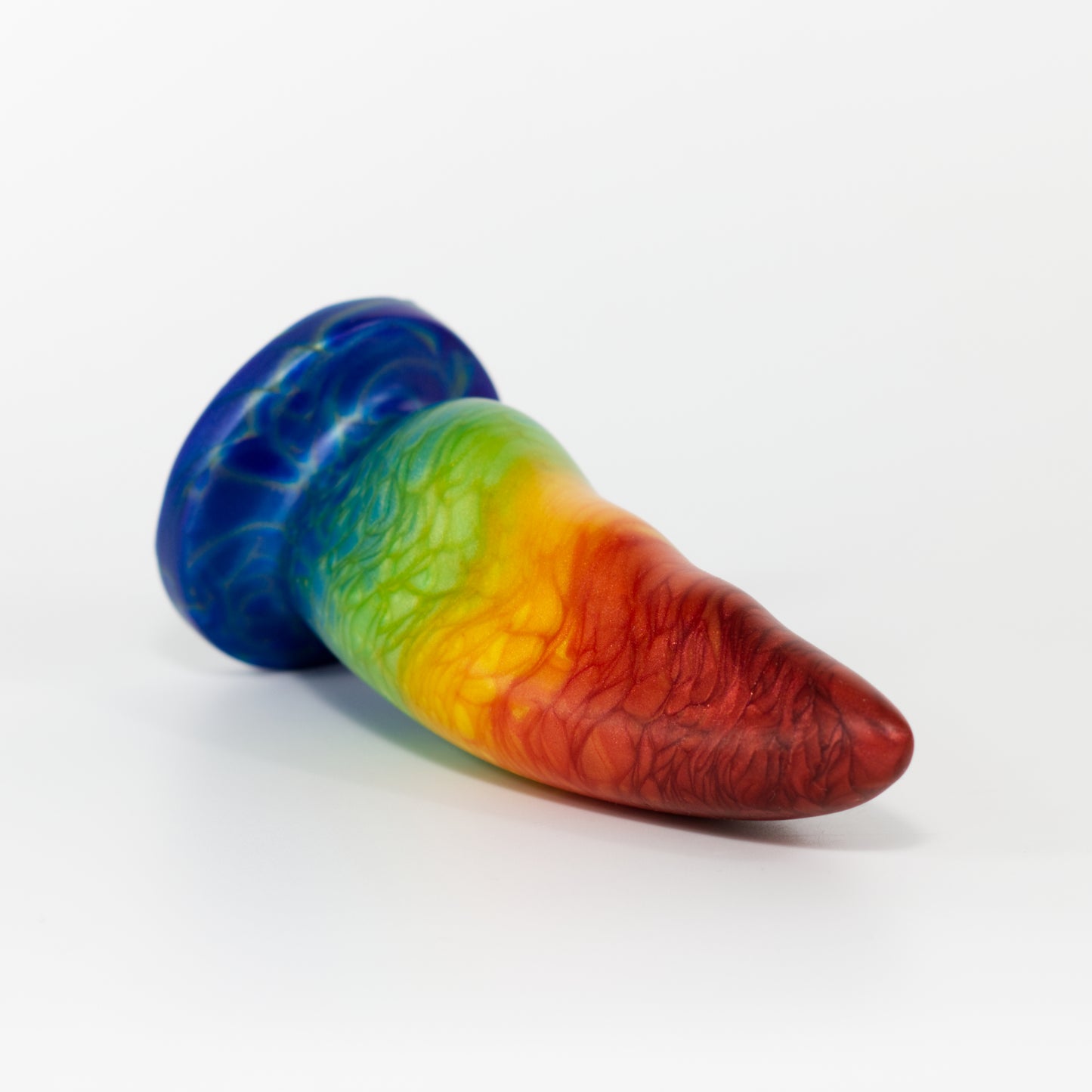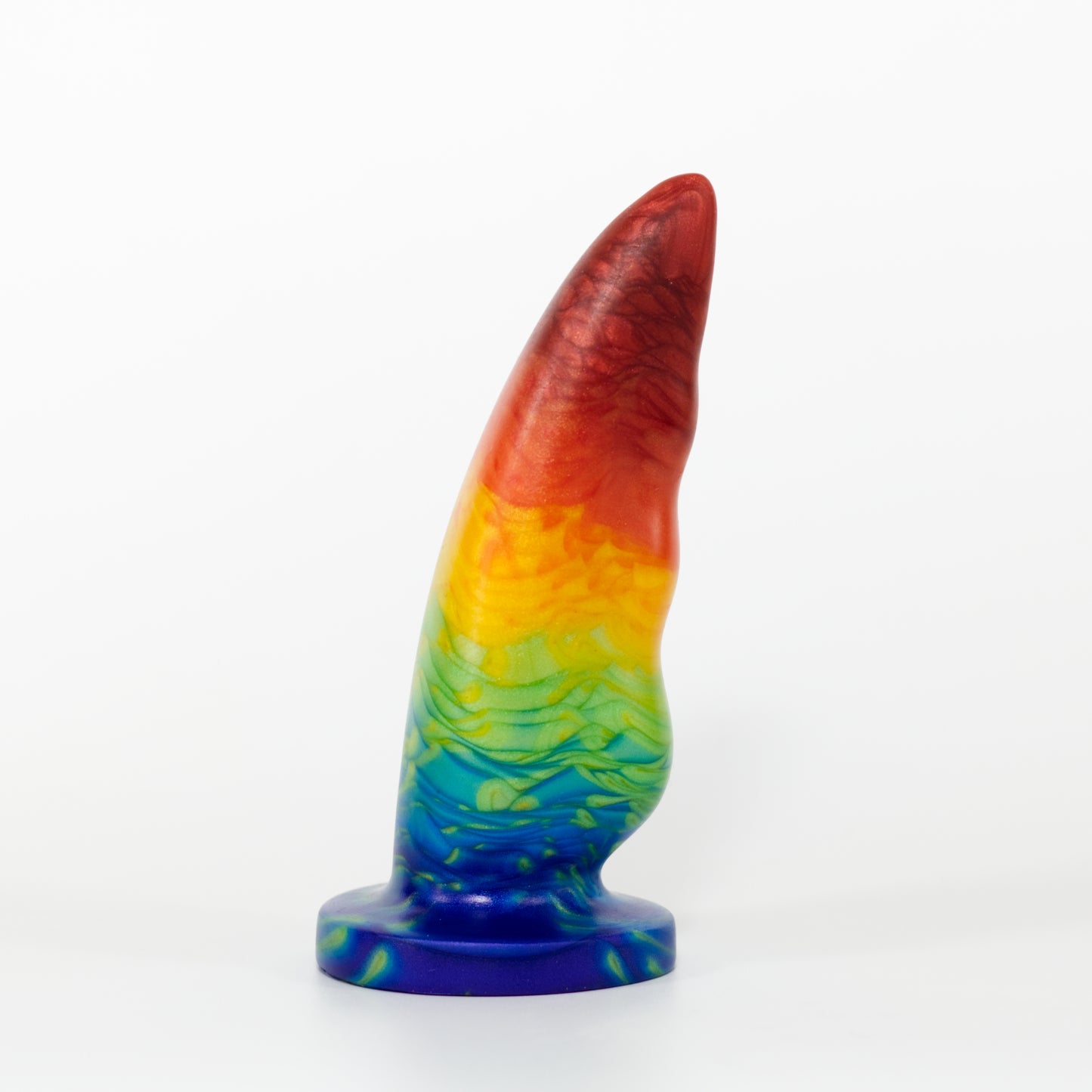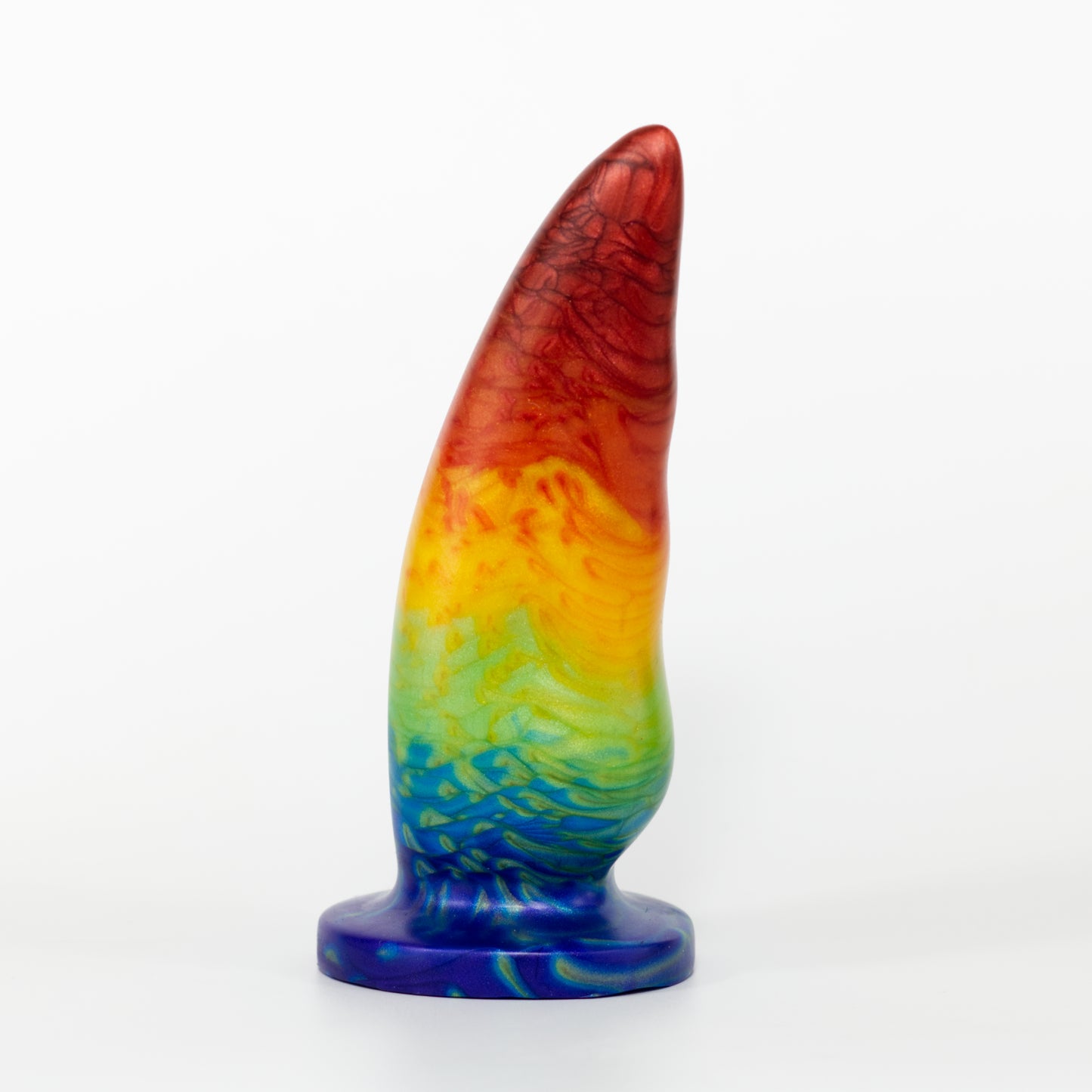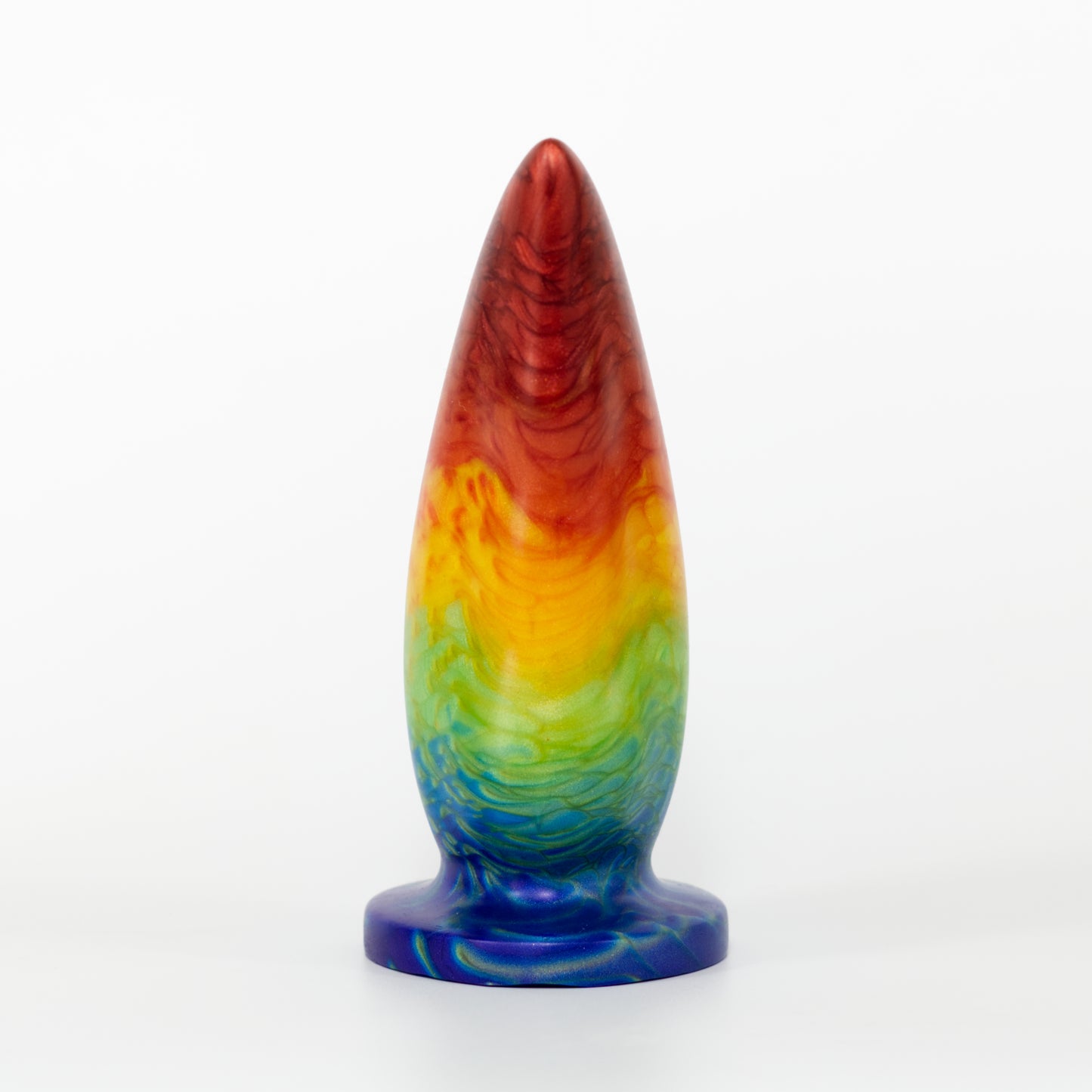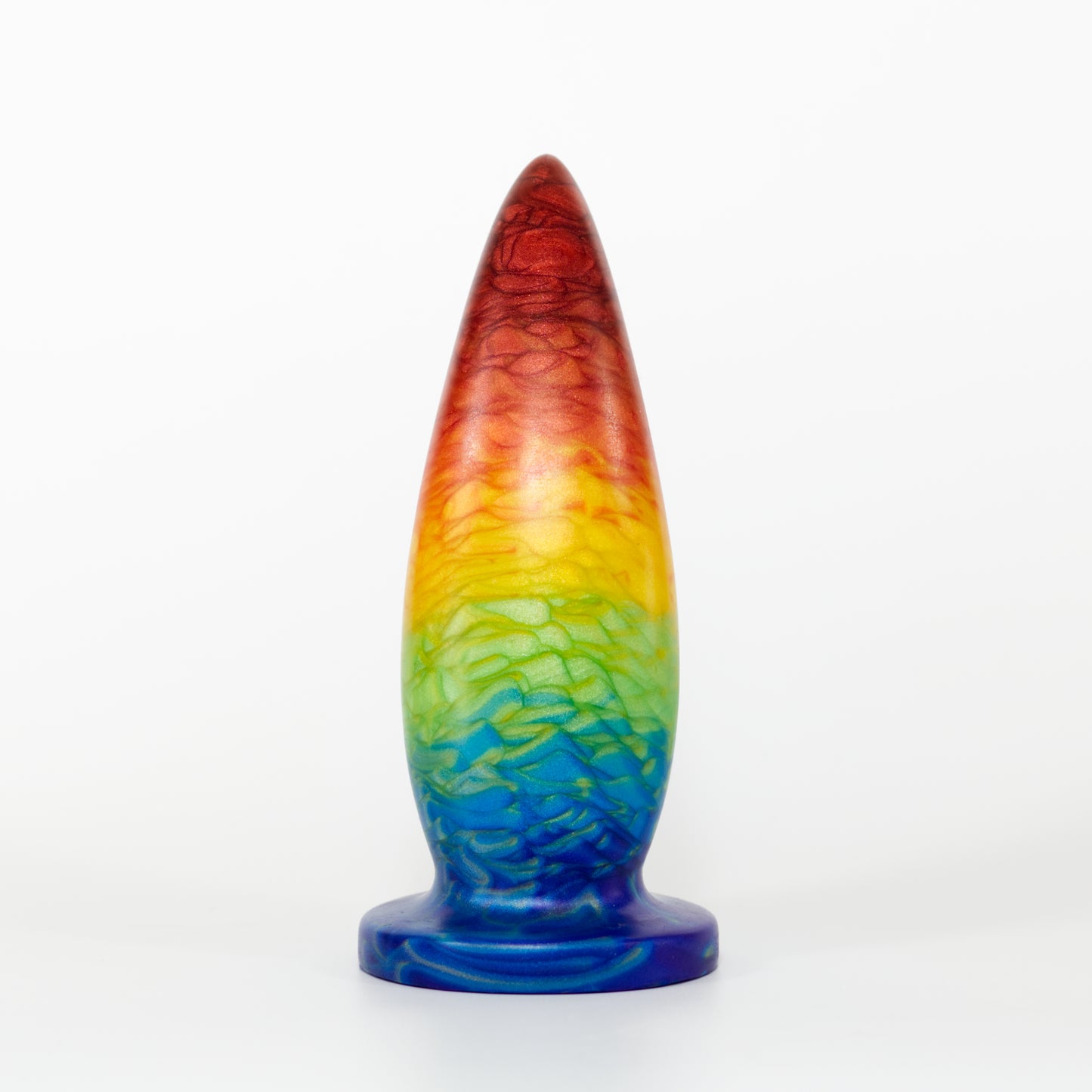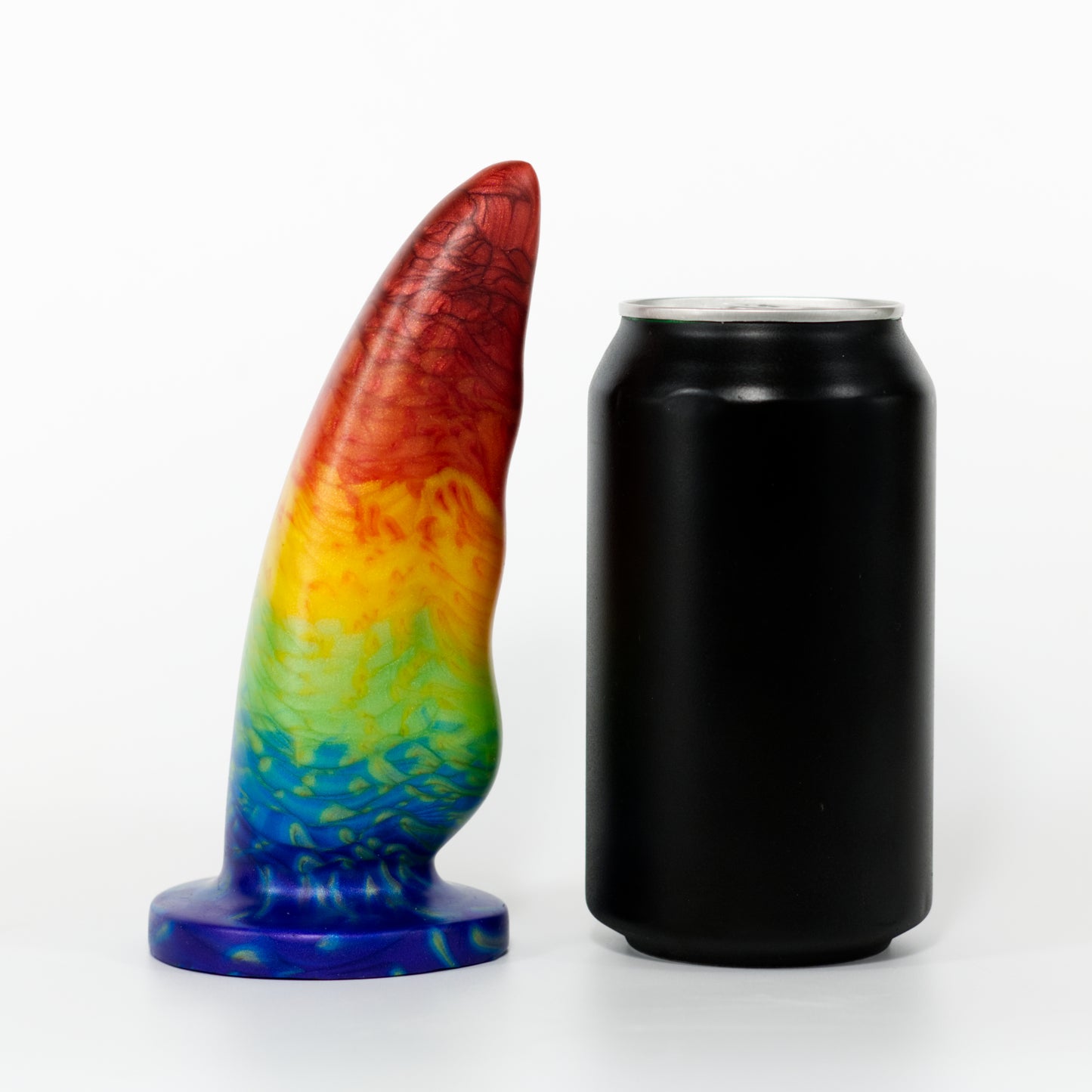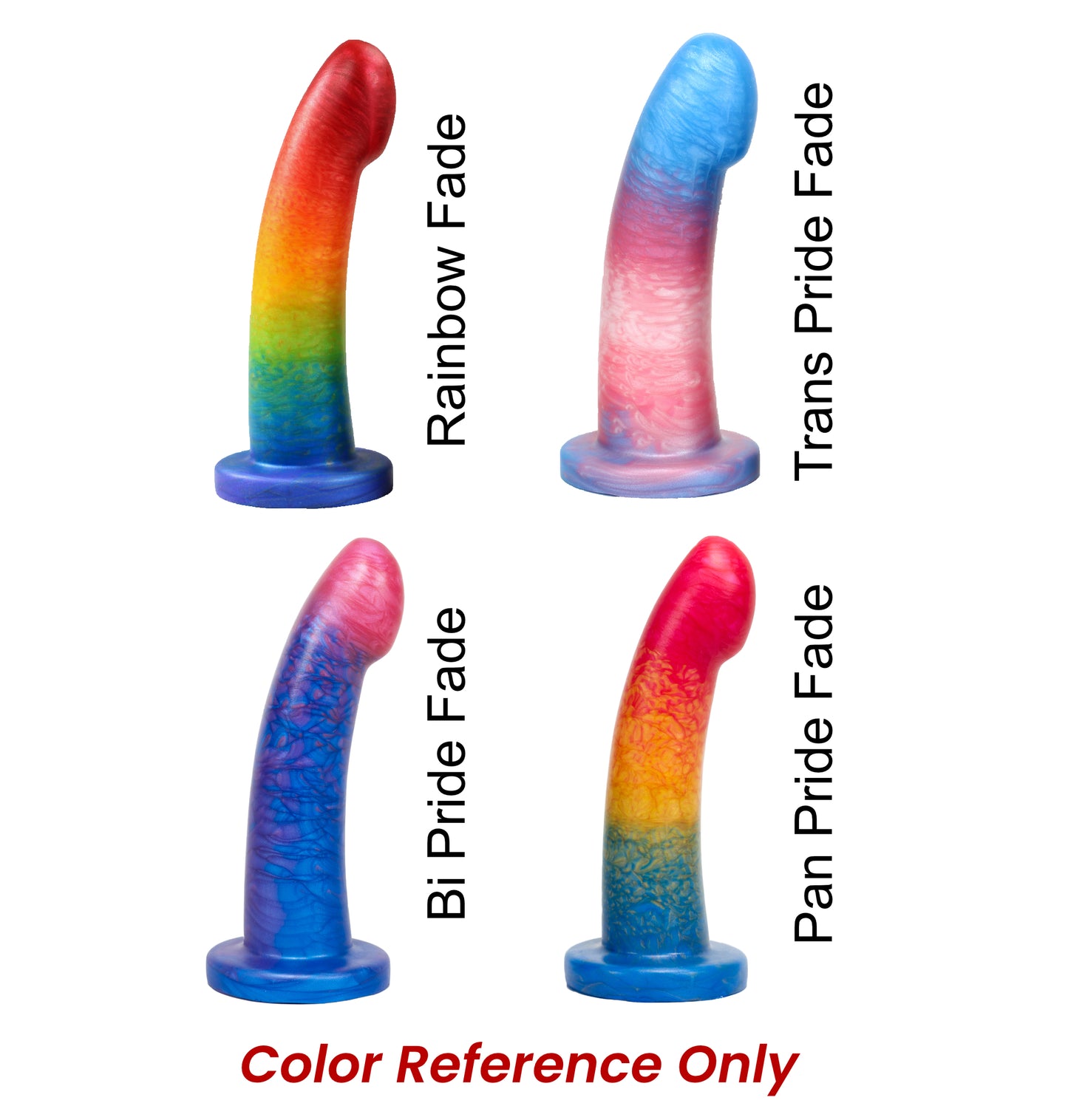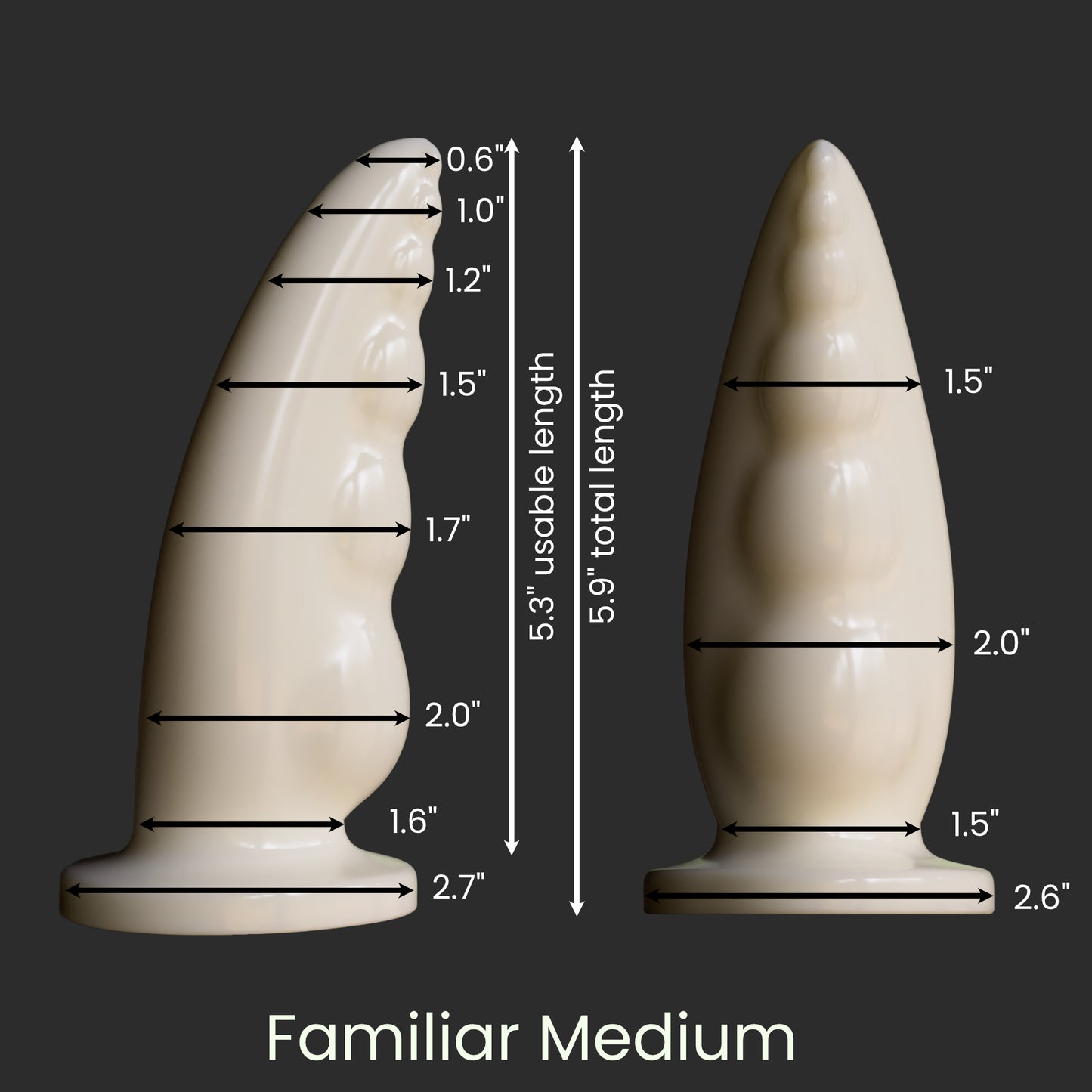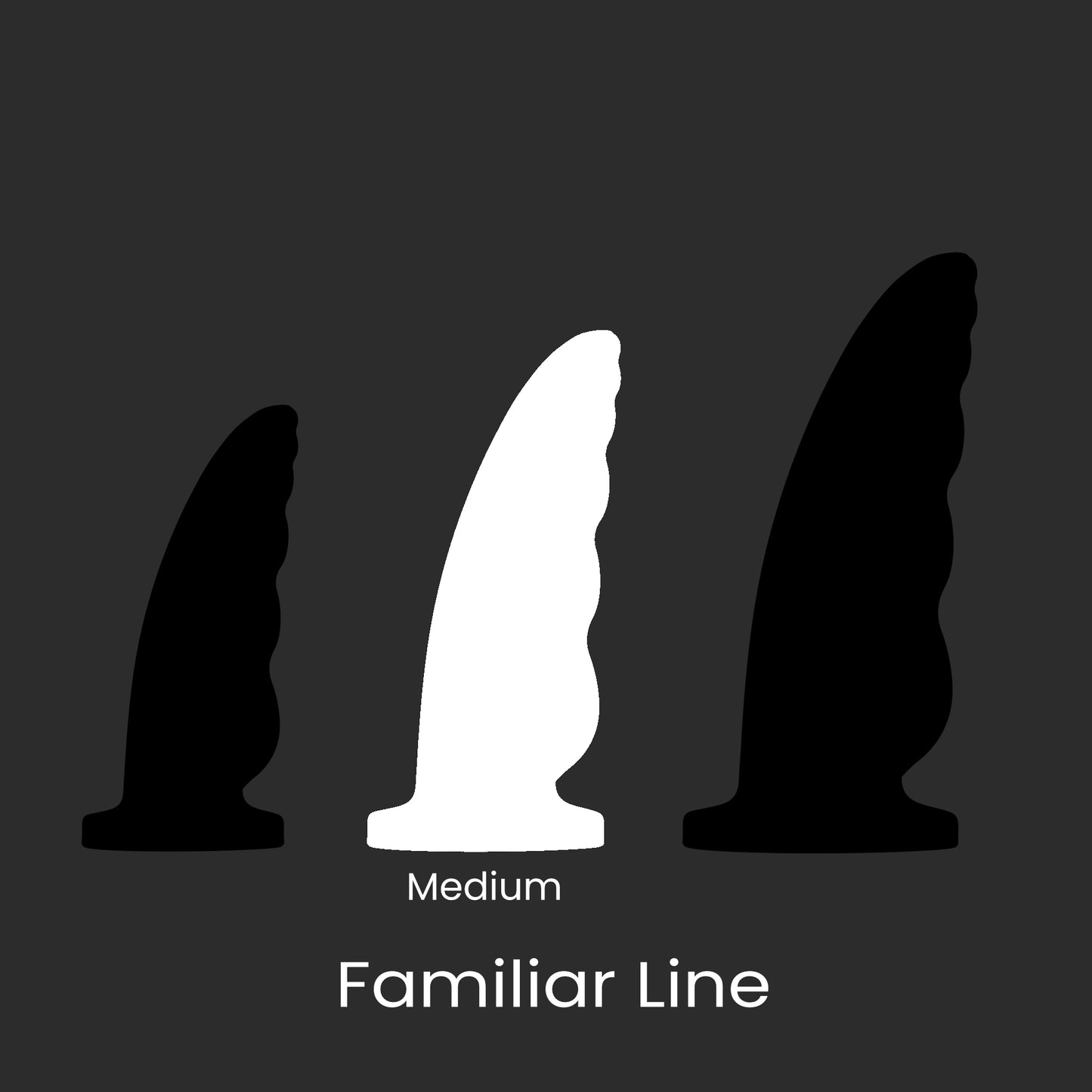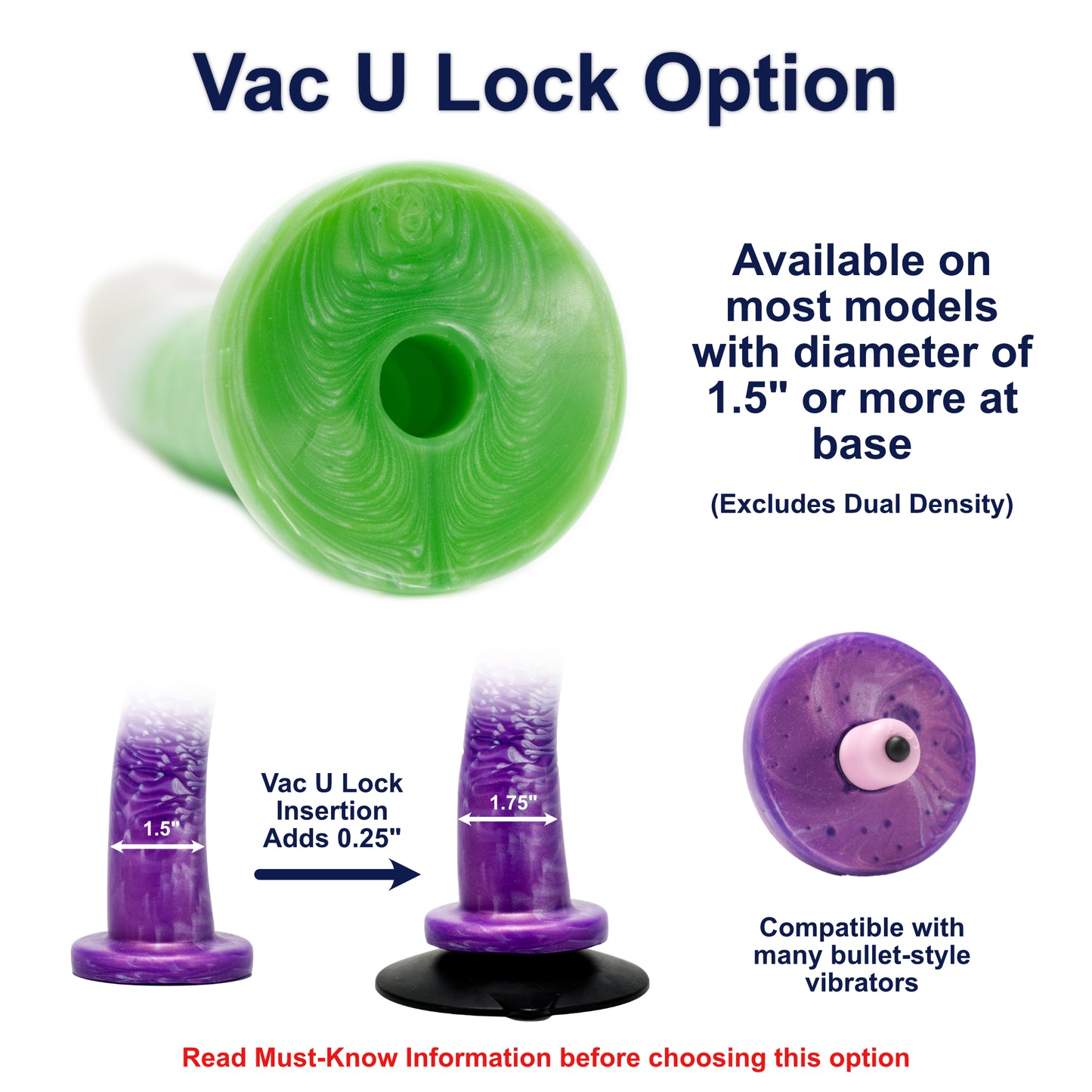 Must-Know Information
Materials

100% body-safe platinum silicone

Cosmetic-grade mica pigments

Skin-safe silicone pigments
Vac U Lock Cavity Option

Adding this option puts a 3" long hole in the bottom of the toy, through the base. You can use this hole to attach a Vac U Lock compatible attachment, or a bullet vibe.

This hole does not come standard - you must select this additional feature using the option picker.

Inserting a Vac U Lock attachment causes the bottom 3" of the toy to expand in girth by about 1/4". It also makes those bottom 3" much more firm, since Vac U Lock attachments are usually rigid.

In most toys, it will be DIFFICULT to use the toy WITHOUT something inserted into the cavity, as the lower three inches of the toy will be floppy and collapse easily. Please take this into consideration before choosing this option.

Additionally, we make no warranty about the suitability for use of our toys with vac u lock attachments that we do not sell. It is up to the customer to make that determination.
Discreet Shipping

All orders ship in unmarked packaging
Ship-from address says "TFT" on company name
Credit card line also says "TFT"
International customs forms list item as "silicone sculpture"
International Customers

ThemFriends is located in the United States. We love our international customers! However, please know that as an extremely small business we do not have the capacity to deal with customs fees or sales/VAT taxes local to our international customers. We will not collect these fees from you, nor will we be responsible for paying them if they are assessed in transit to you.

By making a purchase from ThemFriends for shipping outside the US, you accept the possibility that you may be responsible for paying customs fees and/or local taxes/VAT.